Remember to sign up and get your free beginning electric guitar lesson at: prontoguitar.com
Great piece written by Erroll Garner in 1954. Originally composed as an instrumental following the traditional 32-bar format and first recorded for Garner's 1955 album Contrasts, the tune was later paired with lyrics by Johnny Burke and became the signature song of Johnny Mathis, appearing on his 1959 album Heavenly.
First learn chords then melody, then record chords and play melody over chords. Then learn each scale for all chords and create your own melodic ideas.
Memorize scales for each section of song.
Below pages 2.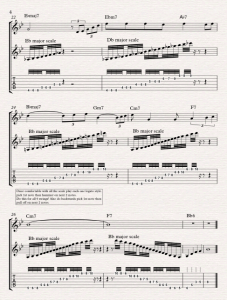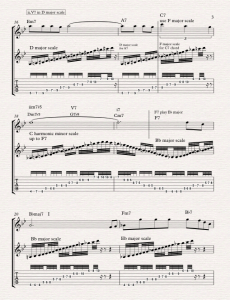 It is important to memorize these melodic shapes in all possible positions on the fret board and or the keyboard. Later transpose to all keys
(twelve notes – fifteen written keys).
All materials for personal use only.
Copyright © 2017 Sun and Earth Music
Any unauthorized broadcasting; public
performance, copying or re-recording
will constitute an infringement of copyright.
All rights reserved