Las Vegas Piano Lessons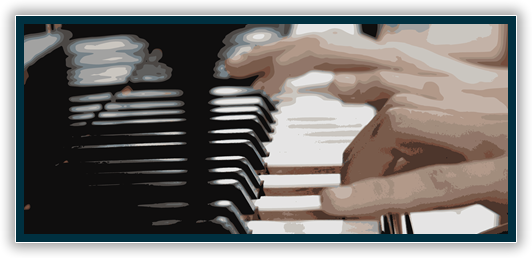 Las Vegas – commonly known for harboring many great types of musical schools, is a wonderful city to be in for getting taught a musical instrument in a very short amount of time. It is safe to say that taking Las Vegas piano lessons would absolutely be a step in the right direction towards becoming a great musician. Are you on the lookout for an instructor who would provide a beginner class in piano for persons of all ages? Then look no further, because your search for Las Vegas piano lessons is over with Vince Lauria, professional composer and instructor.
Your New Tutor
Las Vegas, at large, is filled with talented, dedicated and experienced piano tutors who are bent on giving their student the best of their service in the shortest period of time… but they often lack the proper technique, forcing a student to learn bad habits that are very hard to break. Vince Lauria changes this and provides customized piano lessons for children and adults that teaches them proper technique. Not only that, but lessons are tailored to meet a student's current level and interest in order to achieve their set goals. Vince Lauria from Las Vegas is professionally trained and experienced with for over 30+ years. His passion is about the music and his students understanding its importance towards our very existence. It's not a disputed fact that when you have passion about anything, you come out best in it. Vince's Las Vegas piano lessons are attributed with qualities of being patient, friendly and serve as a means of encouragement to all students, irrespective of whether they are beginners, intermediate or otherwise. Vince Lauria's Las Vegas piano lessons are simply the best when it comes to learning and playing the piano fluently in a short while, regardless if you had zero knowledge about the piano.
How I Teach Piano In Las Vegas
Las Vegas is generally known for being the entertainment capital of the world, and part of that entertainment scene is music. Las Vegas gained its ranking as one of the top places in the world to effectively and confidently take piano classes, achieving your goal in no distant time. Music is a thing of the mind and soul and needs not be handled in such a rash way. The music tutor in Las Vegas, Vince Lauria, teaches piano in a unique way by developing a unique individual lesson for students in the first few weeks. He also takes you on the basis and principles of piano to help you get a clear understanding of the piano and get your fingers to work in few days.
Finding An Instructor
Finding an instructor for your classes in Las Vegas is not difficult. We have hundreds of instructors out here for you to choose from. The most interesting part is that when you get an instructor and you are not comfortable with them anymore, you have the option to opt out and get a new instructor. But you might develop bad habits if not taught correctly. Vince Lauria teaches you correctly. Get started today and grow your passion for music by running your fingers through that piano for a melodious beat. Think piano, think when you should start your Las Vegas piano lessons… NOW ACT AND START TODAY!